Grant Lichtman
Nationally recognized thought leader in the drive to transform K-12 education, Grant speaks, writes, and works with fellow educators to build capacity and comfort with innovation in response to a rapidly changing world. He works with school and community teams in both public and private schools, helping them to develop their imagination of schools of the future, and their places in that future.
Author
#EdJourney: A Roadmap to the Future of Education takes a fresh look at our nation's schools, eschewing the negativity so often found in the world of education today. While on my solo road trip across the United States I discovered that there are brushfires of innovation burning brightly in many K-12 schools.
Speaker
I give many keynote addresses, but
I would rather work WITH educators than just speak AT them. Since 2012 I have been traveling the country, and now the world, sharing my knowledge base with large and small audiences of teachers, administrators, trustees, parents, students, and interested members
of the wider community.
Working With Schools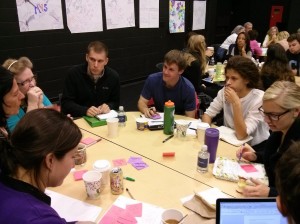 Forward leaning educators understand that school organizations need change at a foundational, a systems level, if we hope to meet the needs of a rapidly changing world. Static, top-down, "this-year-is-the-same-as-last" thinking must be replaced by a vastly more nimble, evolutionary, dynamic process of strategic visioning and implementation. This is what I do.
Interview
Listen to Grant's interview with Nick DiNardo on the Meet Education Project about the evolving learning ecosystem; keys to school innovation; and more.