Where to Buy Grant's Books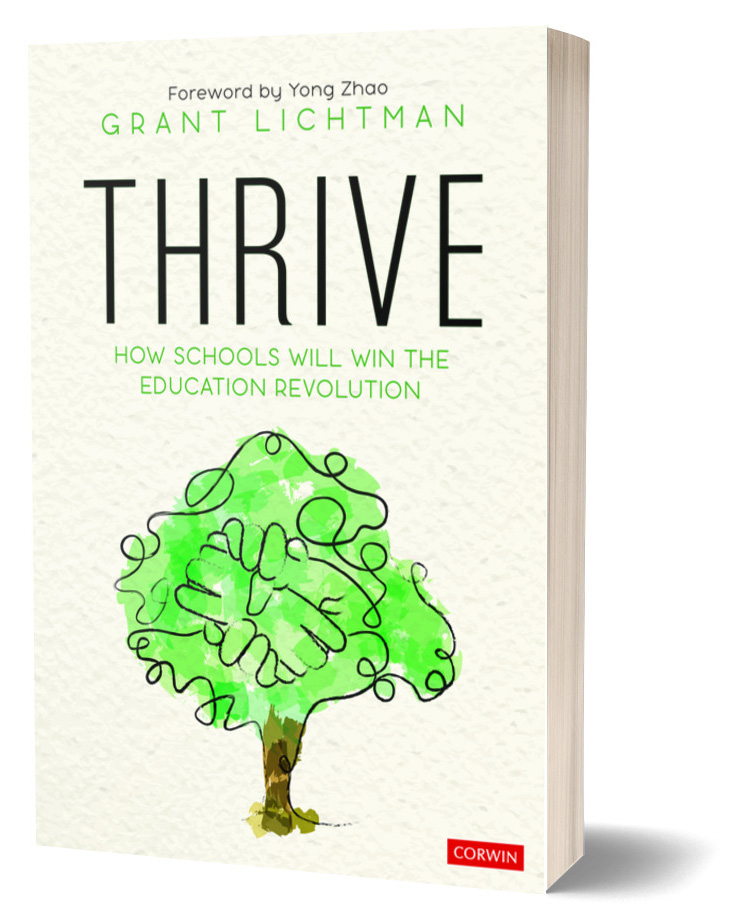 THRIVE:
How Schools Will Win the Education Revolution
Forward by Yong Zhao
Education is undergoing a period of dramatic evolution. The number of options families have for their children's education is expanding at a rate never seen in human history. Schools that understand and deliver what families want and need will survive and thrive in the future; those that do not risk losing the critical mass of students they need to stay alive. This may not be the hand educators want, but it is the hand we have been dealt.
This book shows education and school community leaders:
The real roles of strategy and innovation
How to build and deliver on a cohesive and strong value proposition
The big tools of strategic design
Proven tools for bringing about organization-wide change in a department, school, or district
New and proven ways to engage with, understand, and measure what your community wants and needs
Ways to ignite and measure the impact of innovative projects in your school or district
PLUS, appendixes that include:
Proven, interactive, engaging activities that you can use with your own teams
Grant's personal five-year archive "starter kit" list of schools, networks, conferences, and other resources where educators just like you are "doing school differently".
Summaries of books that you may not have read that will help your team re-imagine how schools might work now and in the future.
"Imagine you are climbing a mountain with a large group of people. Hard challenges ahead. Now imagine that you have the wisest and most capable, ingenious, clever, and informed trail guide you've ever met at your side, helping you plan and execute your climb. You feel better, don't you? If your mountain-climb is redesigning a school to serve students in this vastly challenging world, Grant Lichtman is that guide and this book is your trail map. Don't begin your climb without it."
— Andy Calkins Director, Next Generation Learning Challenges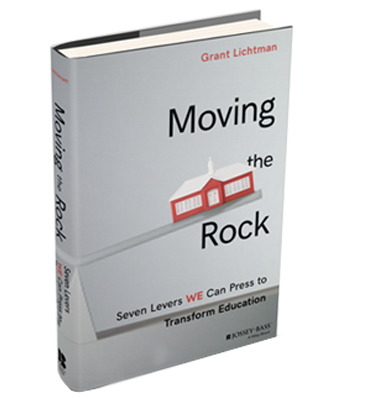 Moving the Rock:
Seven Levers WE Can Press to Transform Education
Education has been stuck for decades due to contrarian forces that have pushed back and forth with little net result. It turns out that WE can transform schools without permission or empowerment from the forces that have created this inertia in the first place. There are at least seven powerful, audacious levers we can press on, and all seven are successfully transforming the learning experience in schools and districts today:
Creating Demand for Future-Leaning Schools
School-Community Learning Laboratories
Free, Universal Access to Knowledge
Measuring Success and Re-tooling College Admissions
Teacher Training for Deeper Learning
Building Learning Around Connectivity
Building Leadership Capacity in Our Schools
At the end of each chapter there are specific steps that all of us—teachers, parents, students, administrators, philanthropists, university and business leaders—can take to collectively turn the pioneering work of others into school transformation at scale.
"The future comes at us fast — which means school reformers don't have time to wait. They need real tools in real time. That's why Moving the Rock is so important. Grant Lichtman has guidance for anyone — teachers, parents, administrators, government officials — intent on helping young people succeed not 'someday,' but today."
— Daniel H. Pink, best-selling author of Drive and A Whole New Mind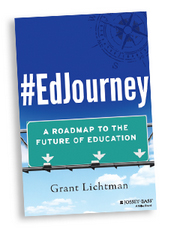 #Edjourney
A ROADMAP TO THE FUTURE OF EDUCATION
Every educator wishes they had more time—to see what others are doing, share with colleagues, learn what is working and what is not. Grant Lichtman took that time: he drove his Prius around America, visiting 65 schools in 89 days to find out: What does innovation actually mean in education? How are schools successfully transforming out of the Industrial Age model of learning? What is working for others?
New ideas about time, space, people, and school structures
Schools becoming more dynamic, adaptable, creative, and permeable to the world
Rising to the existential challenges facing education
Leaving the assembly line in the past
Ecosystems: the way ahead
New pathways of strategy
"… a must-read book for anyone interested in helping shift the education world out of the Industrial Age mindset." David Kelley, Co-Founder of the Stanford d.School; Co-author of Creative Confidence; Founder of design firm IDEO
"On par with Horace's Compromise, Theodore Sizer's seminal 1984 descriptor of the failures of America's high school…a must read." Pam Moran, Superintendent of County Schools, Albermarle, VA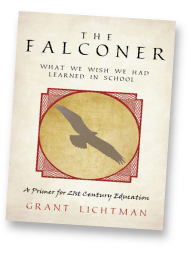 The Falconer
Seven Levers WE Can Press to Transform Education
Based on a ground-breaking seminar for high school students, one of the first books to highlight the power of "What if"… to deliver the keys of design-based problem solving and strategic thinking to both children and adults…to bring the timeless wisdom of The Art of War into the grasp of both teachers and students of all ages…weaving a fable for children with concrete steps to overcoming life's inevitable big challenges.
Who do I want to be?
Finding problems before seeking answers
Questions are the waypoints of the path of wisdom
A system for understanding and solving problems
What do we do when problems don't want to be solved?
What does falconry have to do with learning?
Searching for "elegance"
"I keep The Falconer by my bedside; I've read it more times than I can count. An invaluable tool for any educator who wants to truly transform learning in our schools."
Bo Adams, Director of Mt. Vernon Institute for Innovation