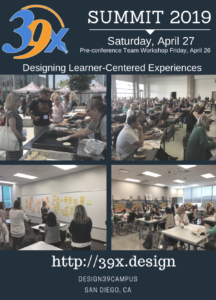 Most educators who read my blog or follow me on Twitter are already in the "deeper learning" choir.  You believe that learning should be increasing student-centric; inquiry, project, and thematically-based; incorporating creativity and design more than recitation and regurgitation.  Some educators need to re-tool their skills to shift classroom practice to "get there".
I don't know of a better, more affordable event for this kind of professional development than that offered each year at Design 39 Campus just north of San Diego.  (D39C has become a destination school for educators to visit from all over the world; they had twelve group tours in just the last three weeks!)  For four years this has been called FutureNow and has grown rapidly to one of the premier PD events for preK-8 educators in the region, with people coming from many states to participate.  This year they are re-branding as "39X" but the elements are the same: active learning deep dives led by classroom teachers. focused on key elements of student agency, from which you WILL leave with real, practical strategies to implement "Monday morning".
Registration is limited to 250 and fills quickly because this is both excellent and very affordable PD.  I urge you to check it out and register soon for either both Friday and Saturday sessions, or just the Saturday workshops.