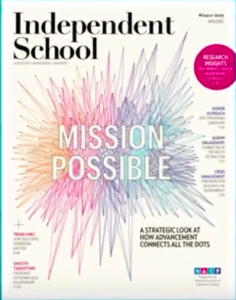 What is it that REALLY keeps independent school leaders up at night?  For much of 2017 and early 2018 I was collecting feedback on a series of simple, provocative, open-ended prompts from independent school heads, senior administrators, and trustees.  I have just published some results in Independent School Magazine.  Check it out; I think you will be surprised at some of the consensus, and some of what is NOT there.
Most of all, I think you will find that some of the leading issues at your school are on the minds of your fellow independent school leaders…and, by the way, leaders at public schools as well.  As I have been shouting since my #EdJourney in 2012, the obstacles, successes, and goals of private and public schools are far more similar than they are different.
Thanks to ISM for publishing the article, and to all of those edu-leaders who generated the 900+ post it notes!