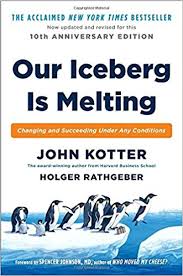 Penguins, icebergs, and organizational change, all in a one-hour read. What's not to love?
John Kotter knows as much about change management as anyone in the world.  I am embarrassed to say that I had not read Kotter until about two years ago, but perhaps that was actually good.  I had to develop my own ideas about how schools change from empirical observation and work with many schools, and after that was able to see the alignment with what we can call the "Kotter model" and what is effective at an increasing number of schools.
Our Iceberg is Melting is a fable by Kotter that summarizes his model for effectively managing organizational change.  It really does take only about an hour to read.  It would make a good summer read (alongside Moving the Rock, of course!) for school teams that are ready to change from what is not working well for their students or their school to something that works better.  In fact, the real message of this fable is that change in the future will likely be a constant, and we just have to get used to working that way.
A year or so ago, as I found other school leaders using some form of Kotter's work to build a change model, I made the following slide that I use in many of my presentations and workshops.  It is a hybrid of my own thinking, Kotter's, and what has worked at schools I have visited and talked with.  We will be using this general outline of leading change when I partner with the Canadian Association of Independent School in a ground-breaking Strategic Change Accelerator for schools starting this summer.
It's great when thinking and practice align after real people get their hands dirty in real work and can report their successes and failures. It allows the rest of us to walk a proven path, be that to a better model of learning or to an iceberg that won't melt next summer.