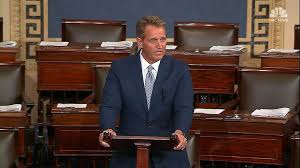 Yesterday I wrote about recent speeches drawing lines in the sand around core American values, by George Bush, Barak Obama, and John McCain.  A few hours later, Sen. Jeff Flake, one of the most conservative members of the Senate added his passionate voice in perhaps an historic speech on the Senate floor.
I am not a political conservative, yet I had tears watching Flake's speech, because it was not about politics; it was about the best angels of America.  It reminded me of what civic leadership can look like; what it used to look like.  I strongly urge this speech to be watched, discussed, and digested in every high school history, government, and civics class in America.  This speech does not have a political agenda; it is about democracy, separation of powers, the Constitution, and the endangered values and principles that have made our country great.
Our job as educators is to prepare the next generation to enter into, and hopefully improve, our society.  I just published a book about the levers we might press to change education to better do that job.  There is nothing more important in education than teaching and graduating young people with strong moral compasses, able to think and understand complex issues, thoughtfully engage in our civil democracy, and solve the daunting problems that face us today and in the future.
Flake and the others who are speaking out, some at a personal cost, expound on perhaps the most important levers that educators can press.  We can add our voices to the call to a return to civility, empathy, discourse, truth, and compassion, and urge our students to do so as well.