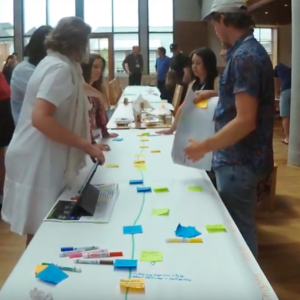 Is your school contemplating a significant change in the year ahead?  Is your team prepared with the skills and processes to make sure that change is well-designed?  That your community stakeholders have had input and are on board?  That you have the knowledge base to move forward with a set of first prototypes and pilots, and then to make iterative changes based on user feedback?
As many of you know I have partnered with the Canadian Association of Independent Schools to create the Strategic Change Accelerator, a year-long program of instruction and support for schools to work on their own strategic initiatives.  We are well into our first exciting and successful pilot year with four Canadian and one US school, and we are opening the window for applications for the second cohort of nine schools, which will start with a 2.5 day training session in July.
Here is what the program looks like:
If you have a potential project that would benefit from this kind of highly collaborative, hands-on, team-based, results-focused training, you might want to consider submitting an application.  Since the pilot has been such a success, we are opening Cohort Two to schools from Canada, and US, European, and other international independent schools.  All of the information is here.
If you have any questions or would like to chat to see if this is right for your school, just shoot me an email at grantlichtman1@gmail.com.