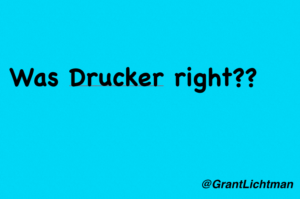 Does culture really eat strategy for breakfast? This Peter Drucker dictum has been at the top of the organizational Ten Commandments for several decades; I often use the quote, and the slide is in my slide deck. It seems to be right for so many reasons.
At some point during our Strategic Change Accelerator with five school teams in Victoria, B.C. two weeks ago, the Drucker quote arose, and one of the teachers rocked my mindset when she asked, "What if you don't have a culture accepting of change? Don't you need a strategy to develop such a culture?" This simple question started a little Twitter flurry, as happens when someone questions one of our fundamental beliefs.
Great question!  Where is Drucker when I need him?  At first it sounds like a chicken-and-egg problem, but I don't think it is. What Drucker meant was that a written strategic plan is nothing more than a bunch of paper and words; culture is soil, fertilizer, water, seeds, and nurturing. A strong culture can generate good strategies, and a strong culture can overcome bad strategies.  A weak culture will not be made strong by a merely formulating a plan to do so.
This new question turns the Drucker quote on its head; it looks at it through the opposite end of the lens.  Does a weak culture mean that there is no hope; that we cannot "strategize our way to success" ?  I don't think so.  I think that a good leadership team absolutely can create a strategy to develop new organizational cultural paradigms.  Those strategics have to be active, powerful, targeted, and really implemented, not just words in a plan. Those strategies have to overtly and powerfully recognize that the culture of the organization is resistant to change and THAT is going to change; that a real shift in cultural norms is a precedent to innovative change, not a result.
What do you think?  Tweet me @grantlichtman and #cultureorstrategy and we will see where your summer philosophizing is taking you!