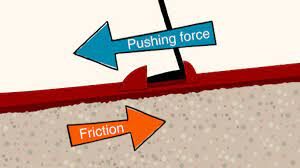 When it comes to human decisions, reducing friction is radically more effective than increasing force.
This simple lesson is evident in everything from rockets to swimming.  And it is is key to understanding how to get people to "move" from where they are to where we want them to be.  Loran Nordgren at the Kellog School of Management at Northwestern reminded us of some great examples of this on a recent NPR Hidden Brain interview, "The Obstacles You Don't See".
A furniture store more in the middle of the last century pushed advertising and lowered prices, but the sofas were not selling. Then the found out that customers did not know what to do with their old sofa.  They offered free sofa removal with a purchase and sales skyrocketed.
Nordgen uses the example of a rocket. If you want to put more stuff into space you either increase the size of the rocket engine or decrease the weight and drag.  Doing the former requires one decision; the later might require a thousand design decisions. So we often spend more resource on increasing "force" rather than decreasing "friction".
Nordgren cites studies showing that decreasing friction when humans are involved is on average 5 times more effective than increasing force.  This should be particularly evident in our current environment when re-enforcing all the best, most objectively provable arguments on wearing masks and getting vaccines just don't work on people who are resistant to that "push".
Several years ago I wrote about this, referring to studies that show that people tend to overemphasize the "headwinds", or obstacles they perceive, and underemphasize the "tailwinds" or resources that are supporting them.
So, if you want your school community to "move" from where they are to where you and they want to go, to transform the learning experience, spend your resources finding ways to reduce the frictional resistance to change (fear, inertia, lack of time, support systems, etc) rather than telling people in more and stronger ways why the transformation is a good thing.