I'm not sure I have ever been present at the birth of a new word; I have now!
In working with the leadership team at The York School in Toronto, we discussed the value of leaders visibly sharing their own growth and learning goals with their colleagues.  I raised the idea of each member of the team starting next school year by posting one of their own growth goals on their door in a way that invites comment and help from those they serve.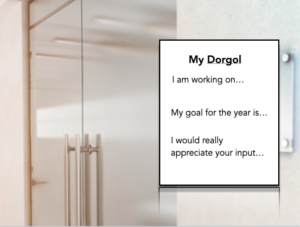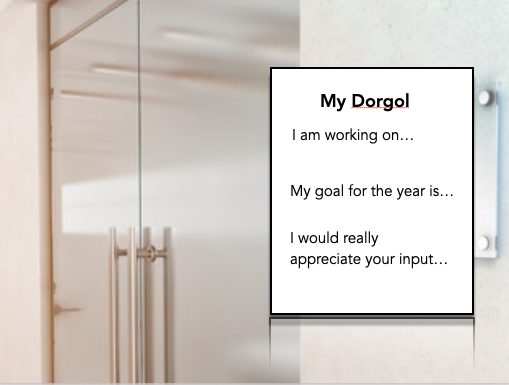 As the team members started to post drafts of their individual goals on a JamBoard this morning, the head of school said something about "door goals", which I heard as "dorgols", which I think is a great new word.  So, the definition:
Dorgol: a short invitation posted on a door which invites comment and help on one's personal or professional growth targets.
One member of the team had posted a beautiful dorgol, but maybe it was a bit too long; passersby often won't read if there is too much or the font is too small.  Another member suggested three short, really poignant ideas, but they did not flow well.  So we spent a bit of time iterating the dorgols, and I think came up with some Guidelines to Good Dorgols:
 Short; no more than three pithy sentences.
Start with very explicitly sharing your goal, and that you are working on it.  Great lead-ins might be: "I am working on…", or "I am struggling with…"
Invite others to help you in specific ways: "I would really appreciate it if you would…", "I welcome…"  "Help me to…"
Show the humility of not knowing all of the answers.
Leadership has always been about leading from the front, which requires VISIBILITY.  If we truly value a growth mindset in our school culture, we need leaders to demonstrate that they buy into that mindset; that they don't have all the answers; that they are setting growth goals; and that they value those around them as participants and mentors in that growth journey.
So…think about your dorgol for next year, and if you post it and take a picture, I will share it across my social media!