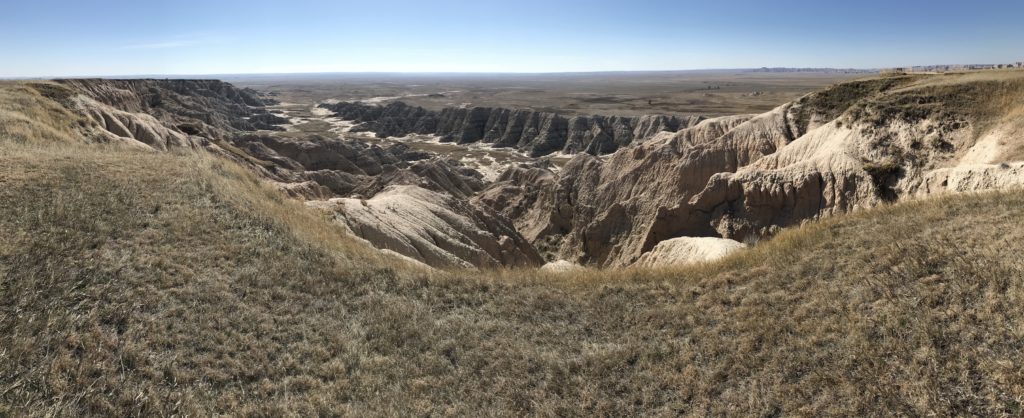 I have spent several days asking questions and listening, but mostly trying really hard to listen.  It is not my natural mode of human interaction; I have always been opinionated and quick to find and solve a problem.  Spending time in a place where problems lie in all directions, my natural tendency is to propose paths towards solutions. I learned a long time ago that approach is exactly the wrong thing to do for an outsider who knows little, amongst a group of people who may have less formal education than I do, and have seen less of the world, but who know so much more about their own conditions than I ever will.
Amongst new friends on the Pine Ridge reservation:
I heard that there are many reasons that this is the poorest zip code in America: bad soil, poor water, distance from infrastructure, decades of land deals that have carved the reservation up into a checkerboard of ownership and long-term leases amongst Natives and whites, and endemic prejudice.
I heard that the Lakota proudly see themselves as the most resistant to outside influence of, perhaps, any tribe in America.  They don't want outsiders to come in and solve their problems for them.  They just want a level playing field, and the basic tools of internal sustainability.  I heard that during the Standing Rock stand-off last year, even the other tribes viewed the Lakota as the most willing to resist to the end!
I heard that local educators suffer when their children suffer; I watched a principal tear up at the talk of how her students struggle with intergenerational poverty and the impact that has on their learning.  I heard that it is very difficult to transform the schools when outsiders come to teach and leave after a few years, and that the local schools and colleges are not producing enough local teachers who will teach and stay.
I heard a highly-educated veteran teacher tell me that in her life she had never met a white person who empathetically understood the Native American perspective.
I heard that a group of students found a way to help themselves and their community after an all-too frequent wave of youth suicides.  They reached into the cultural tradition of the wooden flute, which symbolizes the songs that birds use to attract mates, sounds that share love.  They formed an after-school flute club, and a month ago that group from Pine Ridge High School won a NAMY, the Native American equivalent of a Grammy. And I got to hear a minute or two of that haunting beautiful wood flute music played by the students' teacher-mentor.
I heard that many of the Lakota know that they will, in the long run, succeed at self-sustainability and sovereignty; after all, I heard, "look what we have survived for the last two hundred years, and we are still here and still strong".
After listening, I think we may have some exciting new ways to leverage student voices from Pine Ridge, and make this knowledge, experience, and resiliency vastly more accessible to others who are willing to listen.  More on that as it evolves!
And now, after nearly a week of perfect fall weather with warm days and azure skies, the morning I am supposed to leave is gray, with a hard southeast wind carrying just a hint of the hard winter that always comes here, blasting snow and freezing ice across the open prairie, piling up agains worn FEMA trailers on the reservation as it once did on skin teepees of the Lakota and sod huts of the early European migrants.