How the mighty ripples of school transformation have spread!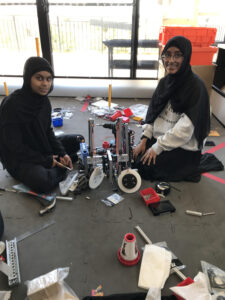 I just spent two weeks working with Unity Grammar, a K-12 co-ed Islamic faith-based school in Sydney, Australia.  Yes, the clothing is different, and prayer time more frequent, but the hospitality, generosity, and fervor with which these edu-leaders want to change the traditional model of education would fit in perfectly with any leading school in the US or Canada. In fact, this was one of the most dedicated, hard-working, flexible, and visionary group of faculty and staff with whom I have ever worked.
We spent the two weeks in all day meetings with design teams focused on every element of a transformed learning environment, both in the classroom and in the administration and operations side of the school. We had more than a quarter of the teachers prototype and share pilots that they will test early next term, and presented those to the entire faculty within the context of the majleis, an Arabic concept of community hub of learning. We even converted the gym workshop area to a majleis for the afternoon!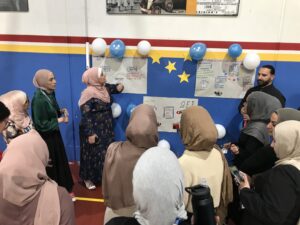 Here is what I really want to let you know.  Many of the educators at Unity have visited and been inspired by the Lindfield Learning Village about an hours drive away. LLV was clearly informed in their practice and daily schedule by Design 39 Campus an ocean away, and others. D39C, just eight years old, shares their pioneering practices with visitors from around the world, including, I understand, a team from South Africa that is visiting this week.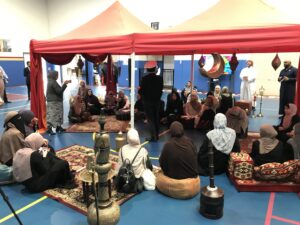 And the real vision of Unity is to prove up a model that will combine future-focused, student-centric, deeper learning pedagogy with their traditional Islamic values, values, I might add, that transcend many cultures and faiths, and share that bridge with others in majority Muslim countries who want to break out of the rigid past.  What a powerful challenge!  A majleis with global reach, and all centered on the kind of teaching and learning that we all, in this community, value and practice.  So in just five years, courageous learning pioneers have spread the models we value across the globe to others, who will spread them further in the five years to come!
I hope you will welcome Unity Grammar onto this great journey; anyone want a partner school in Australia with teachers and learners who have a diverse worldview, but share your passion for learning?? Let me know!