Many of us are thinking, working, and struggling to find authentic ways to diversify perspectives across our learning experiences.  We grew up in a system that vastly overweighted the Near East-European influences on history, literature, art, and science.  Our desire to help our students receive a more balanced and historically accurate education is challenged by those who see words like diversity and inclusion as some kind of subversive code for systemic white racism.  It will be a long struggle.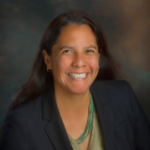 Yesterday I participated in a virtual event hosted by Education Reimagined (if you don't follow them and access their resources, you really should), featuring Kara Bobroff, a Navajo/Lakota educator who currently lives, works, and influences education in New Mexico.  She shared a number of links and resources of interest, but for the widest audience, this Resource Hub of Indigenous learning curated by the NACA Inspired Schools Network is a true treasure trove.  There is something here for every standard, grade level, and subject that will help students across race, background, and demographics to find interesting relevance and new perspectives.
Those of you who follow this blog and my Twitter posts will know that I have increasingly posted resources that highlight Indigenous perspectives and learning resources.  There are fundamental differences between the major through-going core values of White European and Indigenous cultures and we should access both on behalf of our students and ourselves.  Might that conversation start with the differences and overlaps between what many of us have focused on in the last decade or two, so-called 21st Century skills of collaboration, creativity, critical thinking, etc, and this list of Indigenous principles of learning?  Think about it. Where do these fit into the scaffold as your teachers and students design their learning?  Where do these fit into your Profile of a Graduate?
And if you are a high school English/literature, history, or science teacher, consider adding Braiding Sweetgrass to your class reading list this coming year. There is something for all of us in this powerful, poignant, wonderful series of trans-disciplinary essays that help us to see our world from a whole different set of perspectives