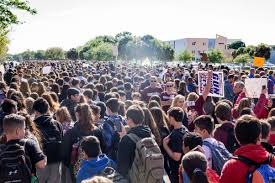 The Walkout on school and gun violence yesterday was not political.  It was a profound opportunity for learning.  I deeply applaud every school leader who, regardless of opinions about gun ownership and the sources of violence in our country, both encouraged and allowed students to take advantage of this opportunity.  Some school leaders did not, for a wide range of reasons: politics, safety, or pressures from the community.  To those I can only say that, as educators, we should be able to agree that deep learning takes place when the learner is intrinsically motivated.  Students are motivated by the issue of school safety, and we all should try to find ways to turn that motivation into a learning experience.
Other than an argument about gun ownership and rights in America, this powerful opportunity might include discussions on civic responsibility, empathy, how we treat students and others who appear "different" from ourselves, mental health, the Constitution, the history of populist movements in America, and many more.  These topics do not interfere with normal classes if teachers are given the responsibility of weaving powerful themes into their curriculum.  The important part of the Walkout is that the students are owning this experience.  We cannot rob them of that.  Some of us might be scared by students owning what goes on in schools, but we have to find a way to meet them in a shared middle.
I have no idea whether this movement, in which students appear to play at least a somewhat leadership role, will lead to any changes in policy at national or state levels or if it will fizzle out until the next inevitable school shooting.  We can't control that. We CAN control how our schools use powerful student motivation to enhance a wide range of learning outcomes that "meet the standards" and also allow students to engage in learning that is deeply meaningful to them.