Inertia is one of the two biggest obstacles to change.  Some "great organizations" have been great for so long that the obvious question is "why change; if it ain't broke don't fix it".  General Motors up until 2008 would have fit into this category.  So would companies like Kodak, Pan American Airways, and Lehman Brothers.  They were great at doing what they did…right up until they were not.
Other organizations are great because they never rest their innovation engine. They are always looking to improve relative to the world around them and changing customers and markets.  They never seem to get lazy. Organizations like Apple, MIT, General Electric, and Southwest Airlines come to mind.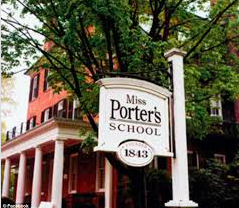 It's one thing if a company like Apple or Southwest started as an innovation leader. It is in their DNA. But what about transforming an existing organization from "we're doing great; why should we change?" to "great organizations don't wait for the crisis; let's roll"?  That takes guts and leadership, as well as a strong launch position.  And that is why I am so excited to be working with Miss Porter's School on what I firmly believe will be a benchmark transformation in high school education.
MPS is about as blue-blood as it comes: a 175-year old, top-tier all-girls boarding/day school in the highly competitive "near to New York City" market.  It was not so long ago that schools like MPS were termed "finishing schools" where young ladies of the upper crust went to learn how to be good wives and to act properly in high society.  MPS is a solid market leader in the tough boarding/day school sector, which makes their evolution doubly important.  MPS is on the leading edge of a fundamental transformation of the high school "operating system", not because they have to, but because it is the right thing to do in order to ensure their students are prepared to succeed in this rapidly changing world.
I started a one-year project alongside MPS last August as they had, under the leadership of head of school Kate Windsor and new Chief Academic Officer Tim Quinn, already set a direction to make fundamental changes to what I have called the traditional school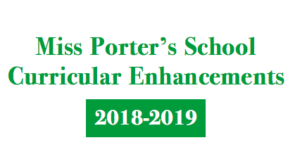 "operating system".  The first big steps are already in play, as laid out in this outline for large scale pilots in 2018-2019. For most schools, this would be enough change for a decade, but it is just the beginning for a vision of learning that will be based on big interdisciplinary themes rather than subject-based departments, a redefinition of the role of the teacher, and real ownership of the learning process by students who will be empowered to create highly differentiated learning pathways during their time at the school.
While not every school will or should see their future in this particular model, the process by which MPS is evolving their future is a roadmap of others to follow:
By clearly stating that the basic independent school financial model is unsustainable, Kate created a sense of urgency for change, even if the wolf is not at the school's door.
By allowing the faculty, staff, and students to unwrap their own aspirations of an optimal learning experience, there is no "top-down" dictate on the future. It is being created by the users.
By creating diverse design teams to ideate major elements of their future program, nearly everyone at the school, including large numbers of students, has skin in the game and a say in the solutions.
By setting an aggressive timeline and a clear mandate, everyone in the school understands that these changes are not optional or  a pendulum that will swing back in a couple of years.
Schools that have fewer resources or are less well positioned in the market have a different set of challenges from MPS, but most schools face problems of inertia and fear when it comes to contemplating significant change.  Most are uncomfortable with re-thinking big pieces of the outdated system.  I urge school leaders to keep an eye on MPS in the next year or so; connect with them; find out what is working and what they are struggling with as they walk this courageous path. Ask those big questions that arise when you look at a revised learning program like MPS is designing: where will students find the time?  What are you giving up? How are they communicating effectively to colleges?  With current and prospective parents?  These are not questions that tuition-paying school leaders need to ask; they are questions that ALL school leaders need to ask.
My bet is that, while change like this is complex, the dashboard is going to be very green for MPS as they position themselves for a future that is very different from their legacy past.