If you want your school to be considered a "leader", but you're not sure exactly what that might look like, here it is: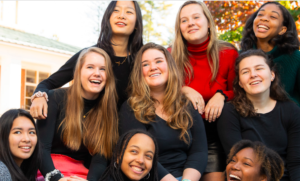 Whatever strides towards empowering women and girls that K-12 has made over the past few decades, and there have been many, it is not enough.  Many post-secondary futures are highly gender-imbalanced.  The number of women in corporate leadership roles still lags way behind men.  In many countries, girls do not have equitable access to education.  Male dominated legislatures continue to limit women's rights. Oh yes, and men generally start wars.
Miss Porter's School is tackling this head-on.  Check out the newly branded Porter's Center for Global Leadership, which, after piloting a remarkable series of international virtual courses during the pandemic, is now offering a full suite of free and paid learning opportunities that "give high school girls the tools they need to be empowered to learn, to collaborate, to lead, and to create innovative solutions to pressing global issues." So far they have enrolled more than 500 young women from 30 countries, giving these future leaders the chance to meet, connect, and learn together on big topics of global importance.
I am particularly excited about their ChangeMakers Institute, a series of virtual offerings that can lead to a transcript certificate for young women from anywhere in the world.  This is the kind of campus-busting, collaborative, interactive, diverse learning that will be a hallmark of K-12 education in the years ahead.
I'm proud to have been a flea on the tail of Miss Porter's School as they have been fundamentally re-imagining the school operating system for the last 4-5 years.  I have urged them to overtly take a leadership role in what I have called Ending the Patriarchy.  This new Center is a huge step.  Congrats!