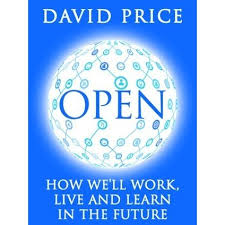 The fundamental transformation of human interaction that is taking place right now is the shift from highly regulated, controlled institutions and formal connections, to the open and informal flow of knowledge, information, commerce, and ideas.  In his book, Open, David Price, OBE provides an important and clear roadmap of the challenges and opportunities that this transformation provides, particularly in the areas of business and education. At every point in his book, I find overlap with my "evolution of the cognitosphere" which I started writing about in 2012; with "flow" as described by Tom Friedman, Eric Teller, John Seely Brown and others; with the "metaverse" of forward-looking techies; and with the structured development of flow-like systems as studied and defined by world-famous scientist-thought leaders like Adrian Bejan and Alex Pentland. Add Open to your school's reading list…right beside Moving the Rock!
Why should educators read Open?
A few years ago, the idea that humans across the globe would fundamentally reorganize around social, political, commercial, religious, or academic interests and passions seemed far-fetched, yet it is happening at an increasing rate.  While we do not see the dissolution of the nation state yet (a change which I do not advocate), the impact on virtually every other institution, including education, is becoming more profound every day.  At the "bad" end of this evolution: ISIS does not need a physical caliphate to spread terror, most of us really have no idea or control over the spread and use of personal data, and lies spread around the globe as quickly as truth.  At the "great" end of the spectrum: students and teachers can create, learn, collaborate, and share with co-learners of all kinds, almost anywhere and any time.  In the middle: your local shopping mall my be going out of business as mega-retail exchanges like Amazon transform what and how we buy.
As I have written before, the curve of this transformation is incredibly steep; if you and your organization are not already on a similarly steep trajectory, it is increasingly likely that you are not going to intersect with conditions in the future, which means you will either be irrelevant, out of business, or both.  The good news is that we are seeing an increase in the speed at which schools actually CAN change.  When I wrote #EdJourney, just a few years ago, my best estimate based on a lot of evidence, was that significant change at even the most intentional schools took a minimum of five years.  I am seeing evidence of that shortening now to 1-3 years where leaders are serious and incentivize teachers, not with higher pay or bonuses, but, as Price says, with the promise of working in and with a team that is mutually and collaboratively creating, sharing, and having some fun.
Big changes are almost never comfortable, but they can be exciting and productive.  As Price says in the book, schools are places where terms like "exciting and productive" should be goals every day, not something that happens once in a while, or on the family vacation. This past week, Julie Wilson and I got to work with a team of educators at the Green Vale School in New York; the energy and enthusiasm from teachers, having received powerful permission to think big, boldly, and move forward with change is still ringing in my head.
I hope your new school year is teed up for a similar leap of trajectory!