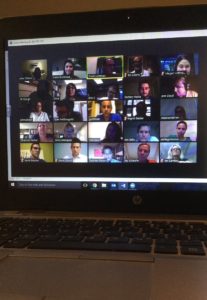 In the last two days, I have had the honor and joy to deeply engage with more than 60 colleagues from across the US and New Zealand, all from my home desk, for free.  That's nothing new for me; I am not tied down at a school. But here is what is new: so did they.  How cool was it to see one teacher from Down Under sipping his afternoon pint (they are on vacation this week in New Zealand) while talking about strategies to transform our schools!
Welcome to Sandbox: a new era, one where "professional development" is not either an annual conference, airplanes, and big expense, or a day listening to a consultant talk about the next new thing. Welcome to learning from and with peers: teachers, administrators, students, parents, other community professionals. Welcome to Sandbox: free, one-hour video meet-ups where we interact, share, and learn from and with practicing colleagues whose interests coincide with our own.
Is this "sit-and-get" learning except in front of a computer?  Is this a MOOC?  Is this a webinar where I watch someone's slide deck cycle by?  NOOO!  The Sandbox is a place where we "play" together!  We get into small groups, share resources, ask questions, find new members of our edu-tribe!
No permission needed; no budget request; no homework; no airplanes.  Click; join; share; learn.  Back to cooking dinner for the family or putting the kids to bed.
Join us.  We already have a series scheduled for the rest of this year (scroll down on that site of the Center for Transformational Leadership to "Teacher Sandbox" for more details and to register; no fee) each with a rock star guest.  You will get to talk in small break-out groups and gather all of the resources that everyone brings to share…like bringing your favorite toy to a sandbox.  You will meet a dozen or fifty colleagues you would never have met otherwise, every one of whom has something to share with you, and every one of whom wants to learn something from you.
Join us; share with your team; ask them to try a Sandbox.  This is how we Move the Rock.  (One lever of Moving the Rock is radical connectivity amongst learners, usually without permission.  Sandboxes are a great place to start!)