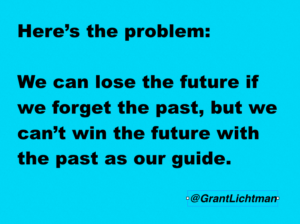 Here's the problem:  We can lose the future if we forget the past, but we can't win the future with the past as our guide.
What does that mean?  None of us really know, because for the first time in human history, the past is a decreasingly useful guide to what will work and not work in the future.  We are in poorly charted waters, without the option to turn back.  If we forget history, we are condemned to repeat past mistakes. But if we look to history as our guide, we are unprepared for challenges that we as a species have not faced before.  It is a problem without an answer right now, so what do we do?
Here's at least part of the solution:  In the past we have relied on a great idea or a few great ideas, a vision or visionary, an invention, "one big crystal ball" to show us the future.  We don't have that, but we have something much stronger: a million smaller crystal balls that can all share pieces of what might work well in an uncertain future.  We have the ability, for the first time in human history, to massively hedge our bets with many, many ideas that can be shared in real time.
Stop trying to find a big box solution for education in an Amazon world; stop trying to build a big hotel in an Airbnb world; stop trying to sell a pre-burned CD in an iTunes world; stop trying to fill taxis in an Uber/Lyft world. The solutions for education will be found in "we".  We just have to learn how to find and apply them, and that is a skill set that few of us learned in high school, college, or teacher school.
So let's pull up our socks and figure it out, because we really don't have a choice.