Never underestimate the power of a group of people with vision, passion, and energy!  Those are the terms I would use to describe the growing group of edu-leaders from Hamilton Southeastern Schools near Indianapolis who focused a book group read and discussions around my book, Thrive.  (Short video and free intro download on my website.) They are district administrators, site leaders, and classroom teachers who believe in the transformational power of education, and want to make sure that their schools and learning experiences are preparing their students to meet the challenges of a rapidly changing world.
Thanks to parent and organizer Jody Britten, the three meetings of the book club were captured in these wonderful sketch notes: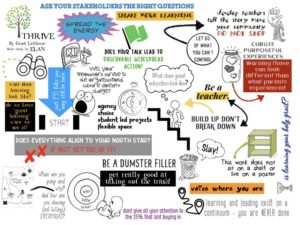 Feel free to share!
What can YOU imagine and create when you bring together a powerful team with shared vision and passion?