Most of my posts are about education; this one is simply about rain.
The monsoon is the lifeblood of the American southwest.  During the summer moist, warm air flows north out of the Sea of Cortez and the western Gulf of Mexico.  In a good year, daily afternoon thunderstorms march across the great western deserts of Arizona, New Mexico, and western Texas, bringing life-giving water to the parched sand playas and sagebrush hills.
The monsoon has been poor over the last decade; green hills have bloomed late and gone back to brown in the early fall.  Arroyos stay dry, except perhaps for a quick flash flood when an infrequent downpour intersects a nearby peak.  Well water is more brackish and harder to find. Cattle go to market and are not replaced; it is just too expensive to feed them when the free grasses of summer fail to thrive.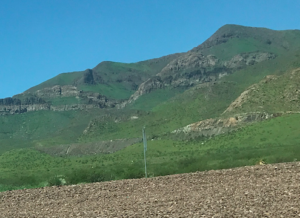 But this year was different. The monsoon was strong, and driving from El Paso to Alamogordo last week, the Franklin Mountains, normally dry, brown and rocky looked like they had sprung from Ireland more than from west Texas.  Along the highway the cuts forth through Fort Bliss, head-high grass and weeds begged for grazers to feast on the bounty.  The mesquite and sage carpets spread across the flatlands like green corduroy.  Someone told me they got 10 inches of rain last week, which is bounty from heaven if you live in the great southwest.
I wish I could credit climate change with a good monsoon; that we can expect more years of good, predictable summer rains across the southwest.  But that is not what the general models show, so water, as it has throughout human history, will be a limiting factor to any plans we have to succeed on and with our home planet.
But for this week, the green was something marvelous to see!