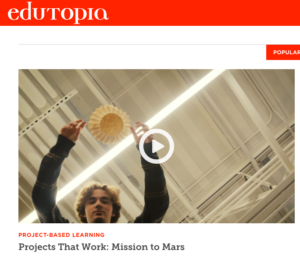 You know I am a huge fan of Edutopia.  They are the default site to visit if you are looking for ideas about what a deeper learning experience can be in your classroom or school.
For five years I have been saying that many schools would transform themselves if teachers could just see what "it" looks like, not in a set of slides at a conference, but as told by their own peers in familiar settings offering real, tangible tools that can be implemented right now.
Edutopia has really built up their video library with short, targeted examples of what deeper learning looks like across grade levels and subjects.  You don't have to get on a plane the visit schools around the country, or spend money on conferences that just a few can attend.  What if the focus of your faculty meetings this school year was that everyone spends a half hour watching a handful of these short videos and then sharing highlights with a team of colleagues in your school?
There is no longer an excuse for not finding ideas and easy tools for increasing student engagement and ownership of the learning process. This is a marvelous, FREE resource; use it!