The Perino family have been ranching horses and cattle near Newcastle, Wyoming for several generations. I got to spend a couple of hours around the kitchen table with two of those generations, including an invitation to a wonderful lunch. I will report in more detail, but this was such a key takeaway:
Patriarch Matt Perino gave me several friendly ribbings for being from California, as have others here in Wyoming.  We probably vote differently, and clearly folks here in the rural West are wary of outside influences that they feel are mostly negative: crime, crowds, traffic, changes to social structures, and media influences to mention a few.
Our conversation explored the relationship between the populated coasts of America and the less populated middle, the so-called "fly-over" areas.  About half of our people live in the red areas and the other half in the gray areas (and the red areas of southern California and Arizona would be MUCH smaller if this were more detailed than by county boundaries):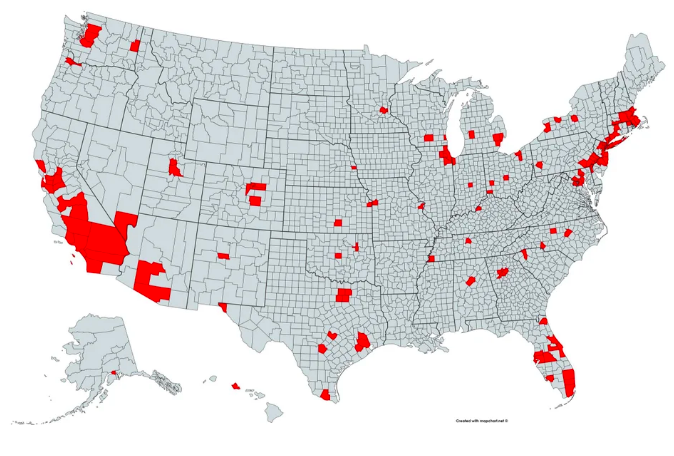 Since the westward migration of European Americans, almost everything we need to live has flowed from the gray areas to the red areas: food, energy, minerals, timber, water.  I made the point that the red areas have supplied advanced education, capital, and technology innovation, much of which allows the people in the gray areas to continue to produce resources.  The Petrinos generally agreed.  This is a critical symbiosis in our country. The vast majority of people on the coasts have no idea what it takes to feed, cloth, house and keep America warm.  And my guess is that a majority of people in the middle have little appreciation of what it takes to create a cell phone, a computer, or a new piece of farm technology.
Over Donna's fabulous homemade berry cobbler dessert, Matt said that there is exploration planned for some rare earth metal mining nearby. We all agreed that finding those resources here and not relying on China is a very good idea. The Petrinos worry about water pollution from such an operation; Matt says the creeks below the nearby Homestake gold mine ran black at one time.  I asked, "It is generally felt that conservatives in Wyoming are not fond of the federal government. Don't the feds play a big part in regulating pollution?
We agreed on that as well.  It is remarkable what common ground we can unwrap when we sit down around the kitchen table and break bread, and berry cobbler, together