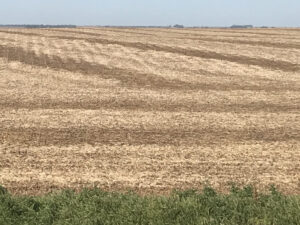 East-central South Dakota is a poster of American farmland; corn, soybeans, cattle, and silos, out to every horizon, punctuated by tiny hamlets with populations that rarely exceed two digits, and a few larger towns with a gas station, a truck repair shop, a few stoplights, churches, and a school.  Over the decades, the quintessential small American family farm has given way to the harsh realities of the northern plains. Farmers who have survived gathered larger land holdings, until modern mechanization utterly upset the farming equation across America.  A farmer who might have grown up helping his parents tend a few hundred acres, suddenly could not compete without owning or leasing ten-fold that much land. 
I was invited to supper with the multi-generational Callies family who have been farming this land since the late 19th century.  Today, they are one of the larger family-owned operations, working "something like 8,000 acres this year" according the Greg, the family patriarch, with just the labor of eight or nine family members.  Think about that for a moment: by investing in hugely expensive equipment, just a handful of people can farm an immense swath of land.
Charlie Johnson is a rare organic farmer who lives about an hour's drive away from the Callies farm.  Charlie and I sit in the now-shuttered Lutheran chapel next to his farm that "used to have about 100 kids here just for Sunday school"; downstairs in the basement Dan Rather reported to America on the farm crisis of the 1980's.  With the replacement of labor by machines, says Charlie, "land prices have gone through the roof", and the only ones who can afford to buy land are "Hutterite colonies that combine their capital, and huge corporations that farm land from Canada to Mexico. It has gotten to the point that our rural areas are going to have to choose between having kids in the high schools or 'Monsantos' in the fields. We can't have both."
The extended Callies family may be willing to live with the inevitable consequences of fewer people in rural America. Greg and Kathy's daughter Ashley says, "We would rather stay here and have that than go to a city. We just are not comfortable there.  And we don't know a lot of people moving into our towns.  They don't attend our church and their kids don't do the same activities as our kids.  We all have our own group.  I am comfortable right here; I lose trust with other people even just going to Sioux Falls.  My comfort is in this small town with people I know.  I have no interest in going any further."
Another daughter, Sara Feldhaus, says that many rural schools have dropped enrollment by 50% in 20 years. "Education may fall to the farm wives.  They will step up and take over education.  I think we would be OK going back to the rural one-room schoolhouse if that's what it takes for us to stay out here where we want to live."  She adds: "Any rural community is hard to join.  I don't think we are all that welcoming of newcomers.  I don't think discomfort is a race thing; it's just people you don't know."
Matriarch Kathy Callies says growing up on the farm helps people separate fact from fiction in what we all hear these days. "We taught our kids to be able to think and question and say, no, that isn't really how it works. As a farmer you have to do that; you can't just take things at face value.  That is a key thing when I talk to kids about what they are learning. Listen to everybody and then pick the best advice."
Daughter Wendy Kroupa, who is an elementary school principal: "We need to teach our kids how to have a conversation and talk to people. We have kids who are afraid to go to a counter or make a phone call to order a pizza in person.  We tell the kids to get off their phones, but then I'm out to dinner with my own husband and he is checking texts all through dinner!