How might we educate the rising generation to be more empathetic and understanding of what it means to be an American?  How might we help heal increasingly deep divides by allowing young people to experience our world through the eyes of "the other" in ways that are both intellectually and emotionally engaging?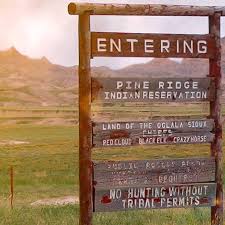 If you have been following my blog and Twitter stream recently, you know I have been trying to create something truly unique and powerful with the community of teachers and students on the Pine Ridge Indian reservation in South Dakota.  We are ready to move forward.  I honestly believe that this could be a game-changing template in American education.
We are going to create the first truly student-voice VR production by students from radically different American backgrounds.  Following the lead of empathetically powerful VR content like Clouds Over Sidra, a team of design-focused students from the largely white Atlanta suburbs will collaborate with Native American students from one of the lowest-income zip codes in America, to produce a student-voice virtual reality documentary of life on the Pine Ridge Indian Reservation in South Dakota.
The Atlanta-based students are part of the Innovation Diploma program at Mount Vernon Presbyterian School, where they are trained in design thinking, empathic inquiry, and creating positive impact in their community and beyond.  They have already developed VR content on modern social justice movements in America.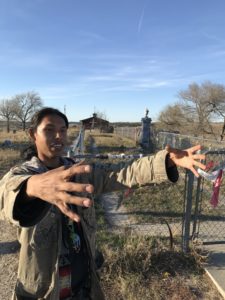 The native students from Pine Ridge High School, are dedicated to telling the story of life in this profoundly underserved community, while at the same time sharing the rich wisdom and powerful traditions of one of the oldest cultures in North America.  The students will be in charge of selecting the stories; adults will be there to mentor and guide. We will provide and leave technology and training at the school for future work.
Students and a small group of adults will collaborate virtually, and travel and spend time at Pine Ridge during the spring and summer of 2019 to imagine, design, storyboard, shoot, and edit the content.  We are supported in this project by Thunder Valley Community Development Corp., a Pine Ridge non-profit that will facilitate housing, logistical support, and mentoring to the local students.
The deliverables in 2019 will be one or a series of short VR documentaries that we will subsequently distribute for free to any school in the country.  We will also document the process of student-led collaboration so other student groups with very different populations can learn to partner, listen, and share their own cross-cultural stories.  We intend that the work in 2019 will be the first phase of a long-term relationship that will generate additional student-voice VR content from Pine Ridge and other Native American and underserved communities, as well as the development of on-site, cross-cultural, interdisciplinary learning curricula.
What can you do? First, I am not too humble to end with this: Mount Vernon School and I have internally funded the work to date. Going forward, this first phase of the project needs to raise approximately $25,000 for travel, stipends for Pine Ridge personnel, and technology purchases for the work in 2019. Donations will be tax deductible and donors will be recognized in the credits and publicity.  Connect me with someone who wants to help out!
Second, if your school wants to potentially engage in this kind of project, let me know. This first phase is just a pilot; our goal is to radically scale this kind of student-student collaboration.  The learning experience will be remarkable, and all of us will benefit from a country of increased empathy and understanding of what it means to be an American.