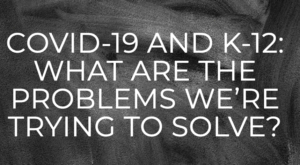 The first step of problem solving is finding a problem to solve.  Covid-19 "found" us, so we move on to the next step: finding the right problem to solve. Educators, students, and parents are overwhelmed with a melange of challenges that they never imagined or planned for.  How can we sort through all of what is swirling around us and find problems we can effectively grasp?
In a one-hour Zoom meeting less than two weeks ago, about 100 educators generated 27 pages of ideas around the question, "What problems should we be trying to solve".  I quickly sifted through all that data, and published this article with Transcend Education yesterday. It seems to be getting a lot of views and attention.
Don't do this work alone. Use the power of the collective.  This article does not hold all the solutions, but it may help your school or district structure a start on that path.
My next major article will be out later this week or next: a caution about why this crisis may NOT lead to the fundamental transformation of schools that many of us want.