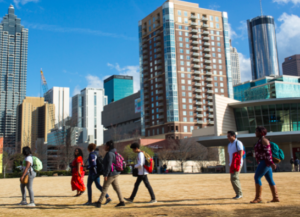 Do you see real-world learning as a disruptive challenge at your school or district? You want to provide those potentially life-changing, highly relevant experiences that break the artificial boundary between "school" and "world", but just can't see how to re-imagine time, space, and required subject patterns?  The great news is that you don't have to figure it out!
As I wrote in Moving the Rock, there is an absolute tsunami of schools and districts that are building authentic, engaging, accredited opportunities for students to learn in and with community partners. In just the last week I learned about:
The Applications and Research Laboratory (ARL) is the Career and Technical High School for Howard County (MD) Public Schools. Students from all 12 district high schools are able to enroll in programs at the ARL. Each academy is a two-year program intended for juniors and seniors and bus transportation is provided for students between their school and the ARL, allowing students to participate in all after school extracurricular activities. Students are able to use industry standard software and technology to study material at an in-depth level. Students are able to earn industry certifications and college credits while attending the ARL which helps prepare them for success in college and careers.
And in the Blue Valley Center for Advanced Professional Studies (CAPS), students from 50 districts in 16 states, mostly in the central U.S.:
…are engaged in open-walled, socially embedded opportunities that feature professional exposure to bioscience, business technology media, engineering, human services, and medicine and healthcare. If none of those "strands" (as they are called at CAPS) fit a young person's interests, they can enroll in the accelerator strand that provides young learner's the opportunity to follow a passionate pursuit from imagination to innovation.
In previous posts I have shared similar, long-standing, trend-setting public school programs at IowaBIG and Maine Township, Illinois.  In independent school world, add the new Mastery School at Hawken in Cleveland that opens next year, Forsyth Country Day in North Carolina, and Bennett Day in Chicago to the growing list of schools that have already developed deep partnerships in the community that allow students to learn through experience and application, not just from a textbook.
So, the opportunities are extraordinary, the pathway has been laid, and now it just comes down to embracing both the excitement and the discomfort of change!