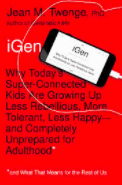 One powerful indication of just how fast the world is moving: students in K-12 today may be VERY different than those of just 10-15 years ago.  In her book iGen, Jean Twenge (HT to Andrea Fanjoy who is going to do a deeper review of this book, which I will share when she publishes it) studied longitudinal surveys over a number of decades, and identifies at least five major areas in which young people who were born in 1995 of later differ from their predecessors, the GenXers and the Millenials.  (I might have thought the real starting point of iGeners might be later, like 2000 or 2005, but that will be sorted out by history.) Some of the data are downright scary, and they certainly should underpin how educators view their job of preparing these students to succeed in the future.
 iGeners are not in a rush to grow up.  They are more likely to want to stay at home (partly because they cannot afford to both pay off college debt and buy or rent a house on low-paying jobs), and less likely to do some of the "grown up" things that past generations have rushed into: dating, marrying, drinking, drugs, and taking both good and bad risks.
They are growing up online, and are intimately attached to their phones in time and space.  The results are not just about being connected 24/7; this tether is significantly impacting how young people feel about themselves: body image, social groups, feedback online, etc.  Teens do not hang out with real people any more; they hang out by looking at a small screen and typing for the vast majority of the time they are awake each day.
They read less and do not follow current events.  Despite their attachment to the internet, they don't keep up with current events and are shockingly ignorant of the physical, economic, and political world around them.
They are "mentally fragile", more likely to be depressed, with higher rates of a wide variety of mental health issues.  Much of this can be tied back to screen time and lack of human contact.  They are also the generation that has been subjected to over-protective helicopter parents, which amplifies the anxiety put onto kids by parents who constantly worry about safety and the future.
The are more concerned with safety, which is a good thing when it comes to lower incidents of risky behavior. But this also seems to be the reason that so many students are uncomfortable with people and settings that run counter to their own worldview (college students who, for example, do not believe free speech necessarily extends to those who they believe are saying things that threaten their own views). They believe that we all have the right to be sheltered from ideas and people who disagree with us, since their home lives tended to shelter them more from these real-world cross currents.
Of course these studies are based on many data points, and not only individuals but entire groups will vary from the main results.  But these are so strikingly different than the indications of just one generation ago: young people who did not fret about losing a job because there would always be something else cool to do, a way to make millions, and just starting to explore a connected world without the tendering of adults.  GenXers and Millenials entered adulthood with more optimism and willingness to try than do the iGen generation.
It was less than 20 years ago, which passes quickly in school-time, that we were spending huge amounts of focus and money on getting our students more connected with evolving technologies.  Now, it appears, that we should be discussing "unplugged" hours and days at school so that our students, at least when they are with us, learn how to be human in ways that are not controlled by addictive "iDevices". Can we balance "unplugged" with a rising tsunami of virtual reality and AI devices?  What will that look like in our schools?  I hate to heap another layer of "really important stuff" on our already loaded plate, but these are the discussions we should be holding now…and I would include our students at the table!