So many great people and interviews; too much to synthesize and post thoughtully, so just a few great quotes from the last two days in southern Louisiana: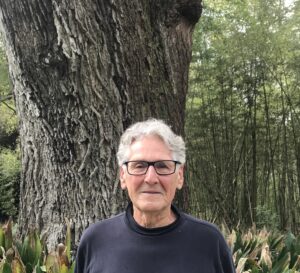 From Darrell Bourque, former Poet Laureate of Louisiana, and current poet/writer:
"I was at Northside High School in Lafayette when they first integrated in 1967. Their idea of integrating school was to pick twelve black children and to block them together through the school day so that they were still segregated within the school. I was given the twelve in an English class. There were two white special ed kids in that class. These kids had come from a black public school system that was inadequate, so they were not academically advanced, even in their own school. I couldn't teach them what I would to in a regular class at that level. So I began to interview them. We began this process of letting them tell their stories, and then I transcribed them and showed them their stories in writing, and tried to get them to see that this was theirs.   If you're willing to take people where they are, what you're willing to say is, 'You have worth and your story, the way you tell it, is of value.'"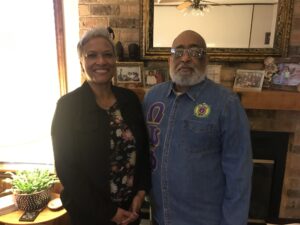 From Angela and Curtis Morrison (the quote is from Angela.) Both grew up here; Angela to middle class parents who were college-educated school teachers, and Curtis whose father was a sharecropper. Angela is an executive with United Way and Curtis retired as an assistant elementary school principal:
"When I joined the Junior League 22 years ago,  I might have been one of five women out of three hundred that looked like me. Today, I would say 40% of the group is women of color. Some of the league members that have been with me for years, I see caution in their eyes, like, 'Oh, they're taking over', the same people that are probably saying, 'We embrace all of that'. They're good as long they stay in control. I don't think my white friends always recognize their privilege. I don't think they always recognize that when I'm in the room, I'm much more careful and much more cognizant about what's going on and how we do it."
"What's different for me now than 20 years ago, I'm no longer willing to make you comfortable. Well, I'm uncomfortable. So if I'm uncomfortable, you're going to be uncomfortable, too."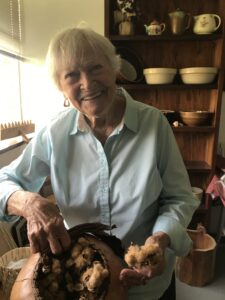 From Mavis Arnaud Forge, native of Arnaudville and current director of an adult training program trying to retain Cajun language, culture, and arts. She is holding bolls of brown cotton, which she grows; did you know there was such a thing?
I grew up in a simple life, neighbors helped each other, the family supported each other. When you gave your word, it really meant something. You lived an honest life, no lies, no cheating. We never went on vacation nor ate in a restaurant as a family. We seldom ever had store bought treats, Mom made everything. Cinnamon rolls, taffy, our clothes, and could she cook!   And this way of life was not unique to my family,  everyone lived this way.  Families had a mother and a father. We had fun. Our parents had respect for education. Our grandparents spoke only French. So did all the neighbors. It is such a different world today, we don't value the same things. Sorry I have rambled on so. Old ladies do that!