I hit the trifecta to end Leg 2 of Wisdom Road.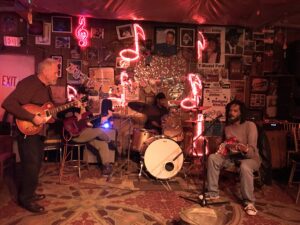 First, incredible blues at Red's Blues Club in Clarksdale, MS.  The band starts in slowly, but by the third number they are hitting pile driver blues with a beat that thumps your chest and makes your foot rock heel to toe like no other music I know.  For some reason, when I listen to live blues and close my eyes, it is like there are little strings around my eyes and across my forehead that pull my face up and down in tiny twitches as if being plucked in time with the guitarist or tossed up and down scales with the singer's voice.
Second, I attended a black Baptist church service, the only white person there, and they were so hospitable; insisted I sit up front.
I have heard a choir in the Salzburg Cathedral, I have sung holy hymns with a congregation of thousands in a Hindu ashram, I have heard the call to prayer at dawn from a minaret in the western reaches of the Indian desert, and there is no music of faith that out-lifts a gospel choir.  Their voices flow only upwards, into and beyond the vaulted church ceiling, and in that flow,  carry a bit of each of us along with them.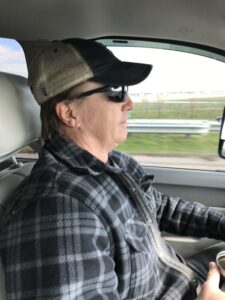 Finally, the kindness of a stranger.  Today I stored my RV in a place outside of Memphis, and had a Lyft ride to the airport scheduled for two days. They left me stranded, 45 minutes from the airport and no taxi service within 30 miles.  Dave Whitmore is a retired operations trouble shooter for FedEx and lives in a small house at the storage facility to keep an eye on it. He just happened to be home; I offered him $100 to drive me to the airport. He said sure, we had a great chat, and then he absolutely refused my money.  So many people have been kind and generous on this road, I guess I should stop being surprised, but I am.  I don't know what I would have done if Dave had not helped me out, other than sticking my thumb out on the highway. Dave and I agree that most people around the country are really pretty nice.
If my good luck holds, I will be home tonight!