A key takeaway from Wisdom Road is not a surprise:  America has seen a dramatic loss of civil discourse in the last decade.  The skills and practice of civility itself have become endangered by a toxic stew of political, social, and opinion-masquerading-as-news media. I believe that the very foundations of our democratic society are rooted in civility.  Without the ability to be human with each other, not through digital interfaces, but face-to-face with others with whom we may have significant disagreements, the system is destined to fail.
In a Futures Foundation event sponsored by the Stanford d.school last week, I had the opportunity in a small group to imagine a rapid prototype "manifesto" to some significant challenge.  The group selected my suggestion: "Civil Divide".  A first step in the design thinking process is often to "map out" stakeholders, usually in concentric rings, starting with those closest to, or most impacted by the issue.  Our group took a unique approach, identifying a wedge of power-based stakeholders (news media, radical influencers, advertisers, politicians, political funders) who have selfish interest in destroying civil discourse.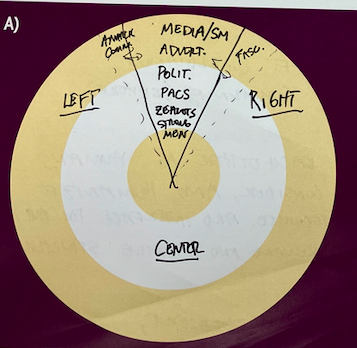 Other than a few people on the radical right and left who either help promote or are affiliated with this power wedge, the rest of us across the political spectrum wish the wedge would stop pushing us apart, yet we feel powerless to eliminate it.
Or can we?  What if the majority of us found opportunities in LEARNING:
Sharing stories and values with people from the "other side"?
Teaching more human skills: listening, considering, humanizing
Discriminating between primary fact-based sources and opinions
What if we radically sought out COMPROMISE?
Find common ground on anything that is not a core human value
Rededicate to duty, sacrifice, and service; amplify "we" and reduce "me"
Peel back technology as an intermediary/interface to human connection
Finally, we created a rapid-prototype Manifesto, using a MadLib format: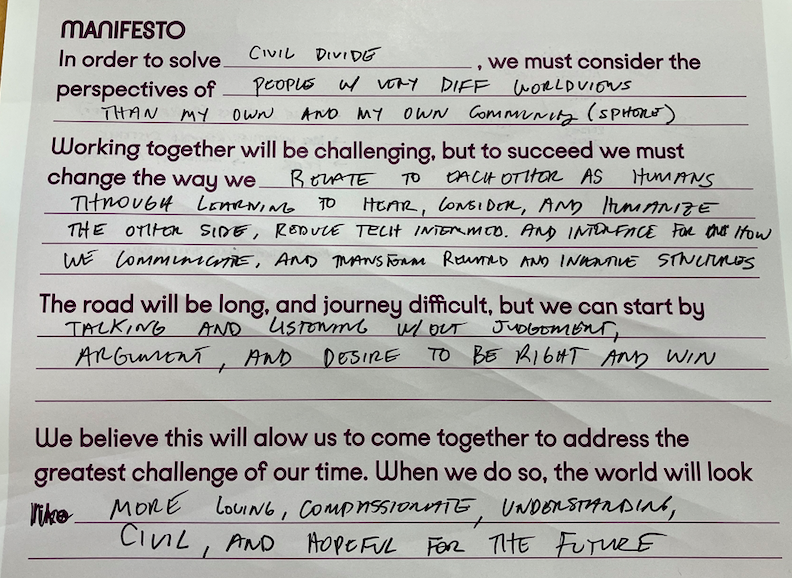 These are rough ideas, but perhaps a good start from three strangers in about 25 minutes of collaboration.  I increasingly believe that civility and civil discourse lie at the ground floor of solving any of the major issues that face us in this rapidly changing world, yet we try to skip over this step. We jump right into designing or arguing for solutions when, lacking a basis in civility, those solutions will continue to fall onto fallow ground.  Hopefully the lessons we learn from Wisdom Road will help repair our ability to be human with each other.  Join me on the journey; all are welcome on Wisdom Road!