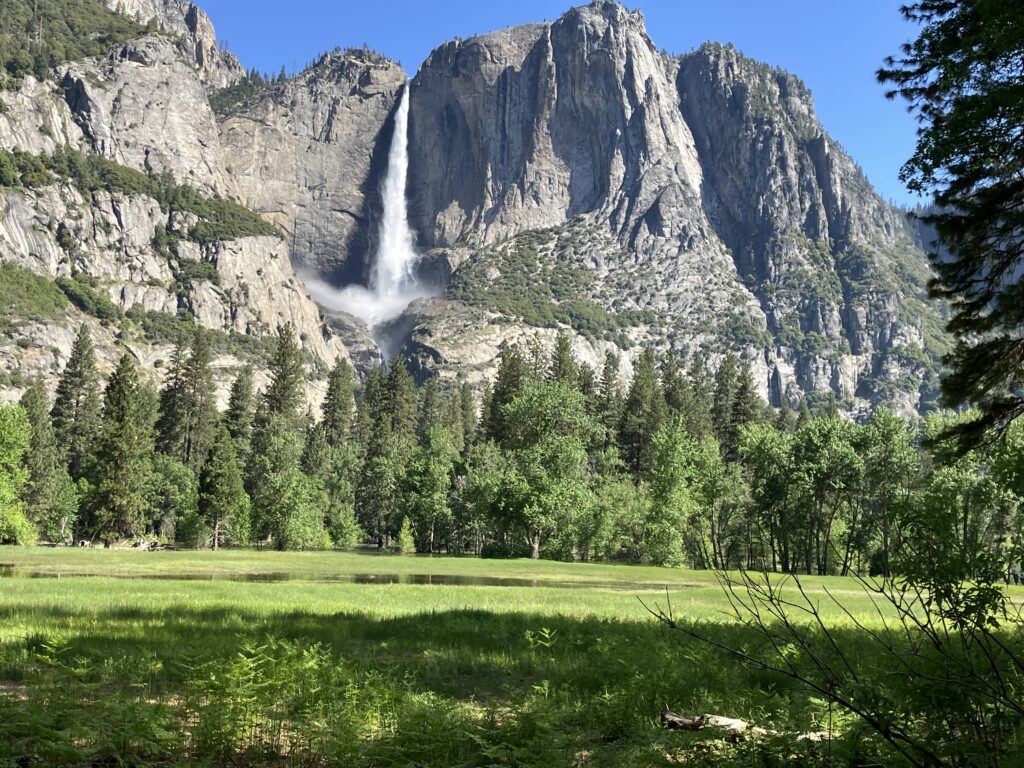 Living in a natural world, you have to be honest. There's no place for contrived illusions.
In June of a normal year, the Merced River flows out of Yosemite Valley in an impressive, but well-behaved tumble of white water, over and through the jumble of granite boulders left behind when the glaciers receded after carving out my favorite spot on earth.  This year, with an epic snowfall in the high country still melting, the Merced below the gates of the Valley is a continuous ten mile-long mass of boiling, frothing, chaotic, ill-tempered non-stop Class VI white water, standing waves, huge drops, and drowned gravel bars.  In the Valley, the famous waterfalls are spewing off the high cliffs as if shot out of fire hoses, and the normally docile Merced has filled most of the Valley meadows with a lake-like flood.
I had the honor of driving and walking slowly around the Valley floor, interviewing legendary Yosemite ranger, now retired, Laurel Munson Boyers, who was born here, and grew up with a front-door playground and morning view that attracts millions of visitors each year.  She became the first female head Wilderness Management ranger in park history, which means she spent more than 30 years taking care of the 94% of Yosemite that is outside of the famous Valley.  I don't know how to summarize her life and career, other than to say that if there is a Valhalla for "Under-sung Heroes Who Have Made and Preserved the World a Better Place For the Rest of Us", there is surely a spot reserved for her at the table.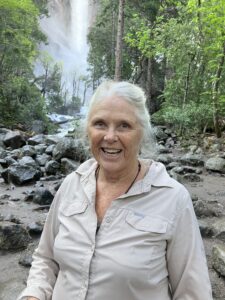 "My great grandfather ran a way station for early visitors right outside the park. He welcomed Teddy Roosevelt when he made his first visit here with John Muir in 1903.  My oldest brother and I were both born in the valley and we lived in a little house just at the edge of the meadow near what is now Yosemite Village."
"I joined the Park Service in 1976. I worked here for 31 years, mostly in wilderness management.  I was the first woman to do full time mounted backcountry patrol. I got to spend my whole adult life cruising around the backcountry, on horseback, climbing, skiing, helicopters, search and rescue, multi day hikes, 10 day patrols, ski trips across the mountains in winter. I have a photo Ansel Adams took of me.  I'm sort of bragging here because I know you're recording. I usually don't talk about myself like this!"
"The main challenge was not loneliness; it is just physically hard and tiring. And sometimes it's really scary. I was afraid of my own insufficiencies. If I made a wrong choice and fell, cut across a snow field and fell through and broke my ankle, or I wasn't paying attention, and my horse slipped and fell and I didn't jump off soon enough.  You're alone back there."
"My gift from my family was my genetic memory about being okay in the woods. We just had this comfort with being outside that was gifted to me really early. We lived in the mountains my whole life.   My parents taught me honesty, which is a huge component of what I value in the world. Living in a natural world, you have to be honest. There's no place for contrived illusions. There are things that you don't understand about nature, but they're not contrived. They're not intentional."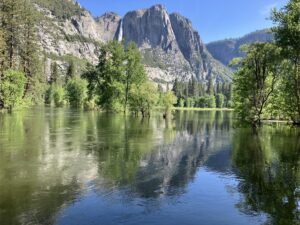 "When you're engaged in nature, it's absolutely real. There are no falsehoods.  When you're not at peace you're more likely to contrive different ways to make life okay, or to make yourself feel better. When you're in nature, I think that you're more likely to be at peace.  Living with nature makes me peaceful, gives me a calmer view of the world instead of being angry."
"Humans don't do humility very well. That is another thing that nature has taught me. I am only seeing such a glimmer of this world, both in scope and in geological time. In the physical reality and the whole concept of the universe, we are such small potatoes."
"Being here we can witness geologic time, and what a little part of it we are, but we have an enormous power to change at least our immediate environment. That's why generations are important.  Look at that little kid walking over there, able to see free-flowing nature, to see the cliff walls, or hear the birds sing. That seems sort of cheesy, you know, Ronda Ranger stuff. But look; no one here has their face in their phones."