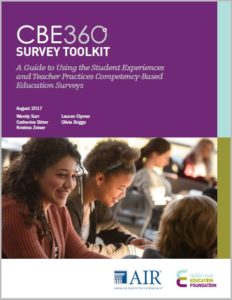 I don't pretend to be an expert on competency-based education (CBE), but I know two things about it: there is a lot of discussion about how to build CBE into our schools, and there is a lot of dissonance about what actually constitutes effective CBE. Thanks to Kim Carter, a long-time guru in developing CBE for passing along this new CBE 360 Toolkit:
States, districts, and schools that want to realize how competency-based education (CBE) can directly support students' college and career readiness must move beyond saying they are using CBE strategies – and examine the quality of implementation of core CBE features. The CBE 360 Survey Toolkit, developed by American Institutes for Research (AIR) with support from the Nellie Mae Education Foundation and offered by the CCRS Center, uses surveys from a recent AIR CBE study to provide a comprehensive picture of CBE implementation in six research-based core areas: learning targets, measurement of learning, instructional approaches and supports, assessment of learning, pacing and progression, and when and where learning takes place.
This is a rich set of resources!