I visit and work with so many schools that are trying to build a clarity of possibility about the future.  School leaders, faculty, students, and parents know that the traditional model of education is not preparing students for their future; they know they want a deeper, richer learning experience tied to real-world relevance; they know they are trapped by a system designed more than a century ago.  And yet how to get over this bridge of transforming their own school seems such a daunting, perhaps even improbable, task.  They know what they want, but don't yet truly believe that transformation is a real possibility.
The main reason I visit so many schools is to share with others "the possible"; to let courageous school community change agents see and know what is, in fact, possible for schools just like theirs.  I found another of those leading examples in August, tucked beside a trout stream at the bottom of Dollar Mountain in Sun Valley, Idaho.  The setting of the Community School is probably unlike yours; and if you work at a public school, the model of a school with boarding students and budding ski racers is probably not a great analogue.  But if you work at an independent school, particularly one without huge financial resources or a firehose admissions funnel, you might want to see what you can learn from them.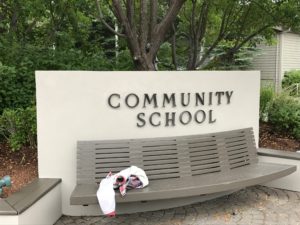 To be honest and succinct, I came up with a new tagline for CS: "Where I wish I had gone to school."  CS is, to me, a modern embodiment of many of the original principles of the Dewey Lab School of more than 100 years ago, using the great mountain outdoors in their back yard as the "garden" of experience, where students get their hands dirty in the processes of learning. The school has that informal progressive vibe; students and teachers use first names with each other; no one locks their doors; the Regio pedagogy and practices of early childhood classes filter up in many ways through the elementary grades.  The high school program is filled with electives related to social justice, less-understood moments in history, and blends of science and art, not with shallow AP courses.  After school, students might go fly fishing with a teacher, not for credit, but just because they want to.
CS also is home to about 70 competitive junior skiers, many training for their shot at the USA national ski team, a dedication that puts them on the slopes or away at competitions during much of the school year. This has forced CS to view the use of time and people in very different ways than many schools; to figure out how to offer the "same" program to groups of students that can't be in the same place at the same time.  Their dedication to outdoors learning means that all students are in class less than at other schools.  And yet, these students go on to matriculate to an impressive list of colleges.  In other words, they have already broken some of the main elements of the traditional school operating system that others believe are unbreakable.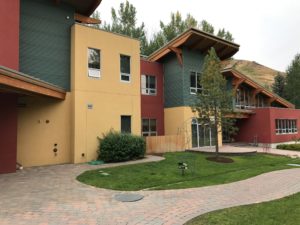 Does CS have all the answers, even for a private school? Head of school, Ben Petit, would agree with a resounding "No".  They struggle with the rising costs and decreasing affordability that plagues all tuition-paying schools.  They lack diversity in the classroom and staff.  The surrounding towns are seemingly too small to continuously feed students to a unique school like this.  Some teachers struggle with the ideas of team collaboration, even in a community that is, well, based on the idea of"community".
Schools like CS have not solved all the problems facing us.  But they are models that others should look at.  When any of us find ourselves saying "I don't see how to get there from here", or "that seems like a really hard change to make", find schools like CS that already are doing what you want to do; connect with them; share ideas, hopes, and experiences.
The most important step in getting to the other side of that bridge of school transformation is believing that you can. Belief comes from seeing, from, in a quote from design leader Unboundary, "building a clarity of possibility"!