Simply: welcome to the end of the Twitter Chat Era for educators, and the start of the Sandbox Era!
Twitter has been educators' most powerful tool for professional collaboration for at least the last five years. It is quick, efficient, free, we can access it whenever we want, and millions of us have joined to form a network of sharing that has exploded innovation across education.
But: 140 characters is not "deep", is it?!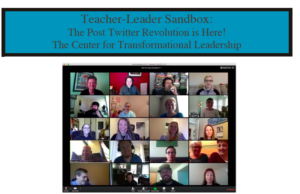 Starting this fall, we launch a new, deeper form of collaboration and sharing: face-to-face video chats with up to 100 practicing colleagues, most of whom you have never met and would probably never get a chance to meet, sharing what matters to YOU…for free!  This is a series of prototypes and we need YOU, an education innovator, to participate.  When Sandbox gets huge in the future, you can say you were in at the birth.
These one-hour, once-a-moth events take place on Zoom video, which is free and easy to use, but right now limited to 100 participants per session.  These first sessions are offered under the umbrella of the Center for Transformational Leadership, so you can guarantee your spot by registering for a session password.  I will be facilitating with Julie Wilson, and we will have an all-star list of guest co-mods!
Here is link to registration website: scroll down to Teacher Sandbox to learn more and to register.
Give me an hour and join the revolution!