I just made two new slides that seem to sum up pretty much the argument for, and the content of, my new book, THRIVE: How Schools Will Win the Education Revolution, due out in the early fall.
Whether we like it or not, this is the hand we have been dealt as K-12 educators today and in the foreseeable future: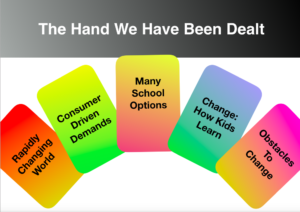 The world is changing faster than we as humans and organizations can adapt to all of the changes.
Consumers, not producers, drive buying decisions.
Families have an ever-increasing range of options for their children's' education.
We know more about how learning actually takes place in the brain every day.
Obstacles to change are inevitable
And the ingredients that go into successful change in response to the hand we have been dealt are also well-known: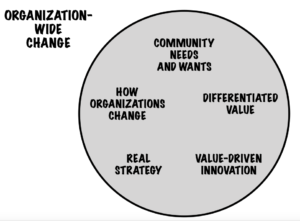 Schools and school leaders have not had to find the overlapping sweet spots amongst these necessary ingredients in the past…while also adjusting for the specific demands of learning standards and all the other unique challenges that schools contain.
But the good news is that schools just like yours are already down the path, so you can, too!