You likely know the reputations of Oxford University and Eton College. Less familiar might be Queen Anne's School, in Reading, just 30 miles west of London.  What can my four days of visits at these three centers of learning tell us about the state of education innovation in the world today?
Queen Anne's School is a well-regarded independent school for girls aged about 11-18.  I spent almost two days at QAS observing, working with the board of governors (trustees), leadership teams, faculty, and the students themselves.  At most schools I visit, I get to work with large groups of adults, salted with a few students who provide diversity and insights as we imagine who and what the school wants to be.  This was the first time I ever had a chance to work with ALL 400+ students at a school and it was a remarkable learning experience!
I took a risk: why not share with even the younger girls the dramatic changes in the world around us?  Why not give them the same chance to dream and sketch their ideas as one would with older students and adults?  So, in three sessions during the day, we gathered a couple thousand post it notes on what the students and their teachers think comprises the core of great learning, what they want their school to offer every day, and imaginative "what if" questions.  We gathered dozens of sheets with sketches, pictures, headlines, and graffiti that helped to unwrap a different type of learning that would increase engagement and enthusiasm for the learning they receive.
While it will take some time to digest the data from the day, two big takeaways stand out:
The younger girls leapt right into the activities, both eager and unabashed in sharing what came into their minds. Some of the older girls were less spontaneous, looking to their teachers, wondering both quietly and out loud, "what are you looking for here?"  How quickly, in these formative teen years, do we yank creativity and impulse away from our kids!
Immediately after gathering a horde of post it notes about what the girls and teachers WANT their school to be, I asked the students to think of a word that described their feeling at the end of a typical school day. The first word cloud, as at every other school I have ever visited was filled with words like passion, interest, enthusiasm, joy, community, family, engagement, and curiosity. The answers to the second question, as they have been at every school I have posed the question, were nearly unanimous: tired and stressed.
The cause of the stress in the older girls is what I want to address for the rest of this post. If we in the USA rightly blame SAT/ACT, AP tests, and a college admissions process that self-admittedly does not measure what we value, then the "A level" courses and exams in the UK are all of that…on steroids.  High school students have to focus on three of four courses of study over their last two years, then take exams that essentially dictate where they might go to college.  Both teachers and students describe the courses and test prep as brutal, stressful, and primarily valuable as a sorting pile for college admissions.  Which takes me over to Eton…
Eton College is, I'm fairly sure, the oldest operating school in England, a boy's school started by King Henry IV in the fifteenth century.  Pretty much everyone agrees it is the "best" school in England.  The boys wear bow ties, starched white collars, and dark suits every day.  It reeks of exclusivity and success, and I am sure both are deserved.  Which is all the more reason why my visit with Jonnie Noakes, Director of their new Center for Innovation and Research in Learning was so fascinating.  Jonnie is a long-time teacher at Eton, and was given the opportunity to create a center of innovation gravity at a school that can influence widely with that gravity.  Jonnie has a platform from which to stimulate re-thinking of pre-college education, just as so many of our colleagues are doing in the United States and elsewhere.
I'm looking forward to ongoing collaboration with Jonnie, perhaps most particularly because he substantiates the same story about A levels that I heard to QAS.  Eton has the financial, social, and educational resources to do pretty much anything they want with and for their students, to provide them nearly any kind of learning opportunity they might imagine.  Students almost can't NOT be prepared to do well in college.
It is a waste, in my humble opinion, when these bright, talented, energized, driven young people are jammed into stress-filled courses aimed at preparing them to pass an exam (fortunately not their entire school experience!).  How they would joyously thrive and passionately engage in creative, thematic projects that THEY help devise, developing the muscles of imagination, design, risk, failure, collaboration, and production of solutions that might impact the real world beyond the walls of classroom and courtyard. The leadership team at QAS, Jonnie, and other UK education thought leaders like David Price, claim that employers in the UK are screaming for graduates with "21st century" skills, yet the schools are still stuck in "exam mode".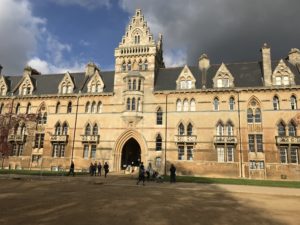 Which brings me to my final stop at Oxford, one of the best universities in the world.  Several things struck me as I wandered for the first time along the winding streets that reek of ancient learning and respect for wisdom.
The first was that an institution as powerful and full of smart people as this should lead the way to tear down test-driven admissions.  The educators at both QAS and Eton pointed to the axis between government, from which funding derives, and colleges, in continuing to support the test-driven gateway to college admissions.  I "get" that we must have some measures of equity to ensure students have equal access to college. Yet every study I have ever seen, and those that have driven so many US colleges to sign on to Turning the Tide, prove that there is nothing equitable at all about test-driven admissions.
The second was that Oxford is a remarkably closed place.  There are pathways and streets where visitors are welcome, and there are a few hours a day when some of the expansive, green quadrangles are open for outsiders to stroll.  But while the streets and paths are open, much of the campus itself is off limits.  They value quiet and peace, as we all do.  But I could not help contrast their cloisters with visits to wide-open places like Stanford and Berkeley, equally powerful centers of learning, where visitors are invited to poke around campus, where the noise of the world is allowed to intrude, where the students are not protected from, but interact with, the world.  Is this a real difference, or just the first impression of a day-tripper?
And finally, I pondered on history during my walk around Oxford on the eve of the 99th anniversary of the end of the First World War, celebrated with a respect and solemnity in the UK that we rarely see for major historical events in the USA.  In this country so close to, and impacted by, the major conflicts of the 20th century, why is Oxford still standing? Why didn't the Luftwaffe bomb it flat during the Blitz?  The answer from a pub-owner as I was eating a chicken and mushroom pie for lunch: Hitler, of course, thought he would invade and conquer England, and he wanted to preserve Oxford for his own.  Humanity has a lot to thank the English for (at least since the middle of the last century when they realized that owning other people and other countries is not a good idea).  And the Great Hall of Christchurch DOES look like it should be at Hogwarts.
My sense is that some pockets of American education are a few years ahead of our cousins in England.  I firmly believe that the forces and steep trajectories in which our schools now operate are global, universal, and irreversible.  I can't wait to do my small bit to help connect the outstanding educational leaders at QAS and Eton to their like-minded colleagues in the US, Canada, New Zealand, and elsewhere.  The sharing will continue to accelerate all of our efforts to move the highly inertial rock of our current system of education, perhaps even in spite of the curse of A level exams.