Were Muddy Mo's a campus cafe there would be bad folk singers on a microphone late in the evening; and were it a bar it would be the kind with local brews on tap where everybody knows your name.  Instead it is a simple coffee shop in an old brick building on one of the wide, quiet streets of downtown Yankton, South Dakota, a few blocks up from the banks of the Missouri River, which is the reason there is an old downtown of Yankton.  This city heart is where the port used to be; where barges parked to offload supplies for the far-off goldfields of the Black Hills and Montana; where the water works still stand on a low bluff. A bridge crosses the river to the Nebraska side where, according to my host Bernie Hunhoff, buffalo crossing in winter broke through and drowned if the ice was too thin, which is why, along with prehistoric-looking paddlefish and man-sized sturgeon, sometimes thousands-of-years-old bones and skulls still rise from the shifting sands of the last wild stretch of the mighty Missouri.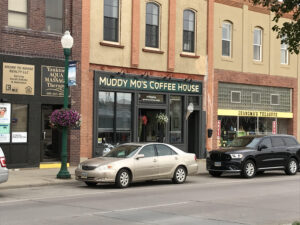 In Muddy Mo's, you can get morning coffee and tea with your bagel, Danish, or croissant, or a sandwich or quiche at lunchtime.  It does seem that, indeed, everyone knows everyone's name.  Bernie introduces me to a table of the mid-morning crowd and gives a friendly wave and greeting to those across the room.  Bernie and his wife Myrna founded the South Dakota Magazine 39 years ago, and had he not served in the state legislature and run for governor as a Democrat in this now deeply red state, I am sure his universal nickname would be "Mr. South Dakota".
Guy Larson says that, "the town used to be much smaller than it is now, but downtown was very vibrant. I remember as a kid, here in the downtown area, there were five clothing stores where you could walk in and buy a suit and have it altered. And now there are none. We had the bakery,  downtown grocery store, downtown shopping, department stores, Montgomery Ward's lunch counters, the whole '50s and '60s thing.  The only department store left in Yankton is Walmart, though when Penny's and Kmart closed, about eight or ten little clothing  stores opened up downtown, and they're doing okay."
Dick Unruh was born in California but has lived in Yankton and worked in the school system. Whether South Dakota will offer opportunities to the next generation is something that everyone from farmers to city dwellers worry about.  "The kids that go to other states for college stay away", at least at first. "They get out of here and see what the bigger world has to offer, and what South Dakota refuses to offer. Those that go to college in-state tend to stay in-state." Guy agrees that some young people leave for college, get a job, but "then when they are ready to raise a family they come back here because of the small-town quality of life."
Guy says that there has been a big change in the kind of good-paying jobs that used to support Yankton.   "There was a big family-owned meat packing plant here. That was probably the premier blue collar job. People would work there their entire lives; they went to work out of high school, and they retired from there. And they were, you know, middle-middle class; they owned a home. Then the family sold it to a much larger meat industry processor, and immigrants, mostly Hispanic or African, have basically replaced most of the local people at lower wages."
Everyone agrees that young people are faced with a different set of challenges today as soon as they graduate from high school.  "I have granddaughters who will be 23 and 21 next month" says Dick. "The 23 year-old is out of college and working. She doesn't say much about politics. She's more concerned about being able to pay her rent and her college loans and keep the car running."  Bernie says that things were simpler for the previous generation.  "Even in a town like this, the beat is much quicker today than it was when we were that age.  Your car insurance was about  ten bucks. And you never thought about health insurance until you were thirty or had a family. Now, the minute they get out of school, the clock is spinning. They have to quickly get into the workforce. We could start businesses and try things for years before settling down."
Guy says that there are still strong remnants of racial prejudice in town.  "I'm not sure we treat our Native American population a whole lot better than we did then. In the 1950's, they got their monthly check and came into town and spent their money, and as soon as their money was gone, they basically were told to leave.  I worked out in a lumberyard more recently and racism was still pretty common. When people would leave the counter, there would be a lot of comments about the Hispanics and the fact that they couldn't speak English or whatever."
Dick says it can be a lot worse than that, particularly amongst the older people.  "I used to go to a barber here in town and he'd get going about the n*****s. Wow. I told him one time, 'You might want to be careful about that. My oldest son is married to a Black woman. She has an MBA, and she's working at GlaxoSmithKline and she was just recognized as their Employee of the Year, for the whole world!'  He didn't say anymore and I didn't go back."
If young people leave the state after high school, they tend to return with more progressive attitudes. Dick's son went to Middlebury College, and "he and his friends are so positive, so active. So many of the issues that strangled our generation are just not issues. I mean, nobody gives a s**t if you're gay, if you're trans, you're just another person. Then you come home, and you start dealing with young people here and you don't get that same vibe. I mean, there are a lot of the same fundamental issues, you see a lot of the same old prejudices that we used to deal with."
Good schools will be a significant issue in the future in South Dakota as national teacher shortages grow.  Travis Lape, an administrator in the highly respected Harrisburg School District near Sioux Falls, says that many districts are already having a hard time recruiting teachers and national data show that 60% of teachers work within 20 miles of where they grew up.  In South Dakota, with its small population, that will be a growing problem.  Bernie believes that, "in small towns, schools are so essential to life and yet we are pathetically low in teacher salaries."  Guy makes the point even more directly:  "If you're out of state  there's really no point in coming to South Dakota to teach. We're number 50 in terms of teacher salaries."
Later, Bernie took me on his boat up and down a few miles of the river, what used to be called the "Big Muddy", but now the upstream dams trap most of the sediment washing down from the northern plains.  Pelicans fish below the dam, the fall flyway overhead is full of ducks and gulls, and herons, egrets, and an occasional osprey circle the banks.  As a former politician Bernie still has a close finger on the pulse of what drives thinking in Yankton.  "Having affordable access to health care, good schools, and an attractive, safe place to live; I think most people are pretty much on the same page on all those things. We have manufacturing and those businesses need workers, and some are going to come from outside the area or the country.  There is pretty good support for that.  Having said that, economic development here will take a back seat to quality of life for most people in the community."
As I drive north out of Yankton on that most American of roadways, the Business Loop, two miles with fast food at one end and a big box Walmart at the other, I already miss the old brick buildings and jaywalking across the quiet, largely empty streets of downtown Yankton. I miss the narrow wood-sided homes painted in bright pastels, with front porches that face onto streets overhung by broadleaf trees. I miss going into Muddy Mo's for a chat in the morning, where everyone knows each other, even if they don't vote the same. Like me, most Americans have never lived in a small town. They are comfortable on buses and subways, rush-hour freeways, and crowds of people that would drive folks from Yankton mad. Time is not a constant; there is more of it in small towns than in big cities. What we do with it; that is another question.