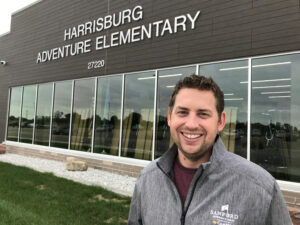 About four years ago I visited and reported on the personalized learning in elementary and middle schools in Harrisburg (South Dakota) School District.  Since then I have pointed all of my school network colleagues to Harrisburg; if you want to see what a transformed school of today/future looks and works like, get on a plane and come to Sioux Falls.  (This short video is several years old, but gives the basics.)  One of the principal architects of personalized learning here is Travis Lape, and today I got to visit with him and get an update.
Four years ago, the personalized learning track was essentially a pilot in beta. Today it is the only offering at several elementary schools in the district and is the most popular track at others.  Test scores continue to surpass the traditional system, some at surprising rates.  Almost without exception, parents are satisfied.  Many more teachers have signed on and are adapting to the flexible-leveling system. A new superintendent is supporting the ongoing evolution, and has mandated that the personalized system be codified through a well-aligned profile of a graduate and written standards and processes.  Every indicator is in positive territory.
I am not going to detail all of what makes this learning system so special but I will reiterate what I have been saying for the last four years. If I had young children, the two schools that I would place them in, of all the 250+ schools I have visited over the last decade, are the Harrisburg personalized elementary schools and Design 39 Campus in Poway, near San Diego. I URGE fellow educators, now that COVID is past, to visit to see what is possible; and possible by the way, in free public schools in states with some of the LOWEST per-student state funding in the nation.