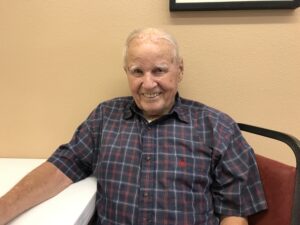 Don was born in 1928. Growing up on a farm outside of Wheatland, Wyoming then was tough.  He said that they really didn't experience the Depression because everyone was so poor already.  He graduated high school right at the end of World War II.  What a treat for me to spend some time with an old veteran of both serving our country and working these lands all those years.
"I was born in 1928. I started out early. January 4th. Well, we had a farm out south of town. My grandpa homesteaded in 1914 and well, my son ended up with it and he sold it two years ago to some lawyer.  It's about 14 miles out of town.  You're way out there then. Our Model T didn't do so well going that far."
"You think it was bad now but you was always close to your neighbors,  and that's what you expected, and that's what you did. We didn't know we was poor, everybody was in the same boat. We had enough food to eat and we got a new pair of shoes every year, a new pair of pants every year."
"I was in Korea. My company had 200% casualties. 80,000 Chinese came across the road. Second Division was annihilated.  I was wounded just a little bit, a couple in my back. You help the guy next to you put his guts back in the hole they came out of; you know he's dying. The next guy is sitting there and he gets it in his forehead. Next guy, he just has his finger on the machine gun and he get's it right in his head, too.  Fourth guy says, 'I believe we can get out of here' and we crawl out. Its hard to talk about but somebody needs to." (Don was awarded a Bronze Star for this action in Korea.)
"The best lesson we learned over there in Korea was simple: live until tomorrow.  That's a really good lesson but I hope none of our young people have to learn it that way any more."
"Most of the families were real strict. Your parents taught you to work hard and be honest.  There was one incident. It was in the summertime, the folks were gone. I probably I knew better. But I went out and poached an antelope. And my mom was mad. But we ate it just the same! An antelope was pretty good, one that's eaten alfalfa."
"You know, your neighbor needs a little help, we got a couple of dads and a whole bunch of kids All the boys and girls out there together. You know it worked. Thats something they don't do nowadays; of course you don;t need to, you got all that machinery and all."
"I used to know all my neighbors and I don't got one neighbor now that I really visit with, some don't want to spend their time. They're mostly younger. They don't want to take care of an old man. They're busy with their lives."
"When I was out working at the fairground, I got this kid and I put him to mowing. He says, 'I can't mow, I don't have earplugs'. But he's driving a car that's so loud you could tell him when he left town! But I happened to have earplugs too so he got to mowing. Y'all need to be on a farm!