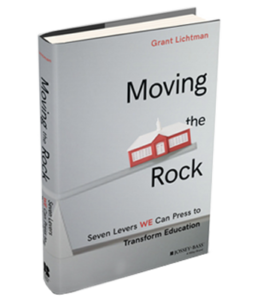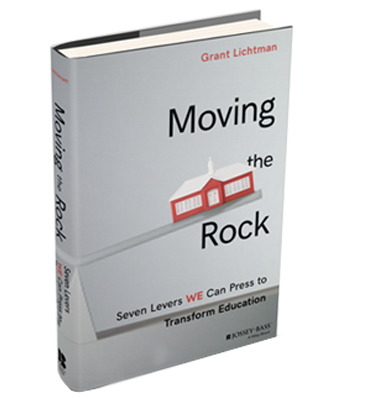 If you follow my blog, by now you probably have seen that my website is completely re-built in conjunction with the launch of my new book Moving the Rock this August.  On the new home page you can download the book introduction for free, and see some of the wonderful testimonials I received for the book from education leaders like Dan Pink, Tony Wagner, Todd Rose, and Yong Zhao.
If you have not already done so, I invite you to visit the Incentives page for the launch of Moving the Rock. For school groups that might want to read the book together, or buy for their trustees or select groups of faculty or administration, I am offering a range of free and discounted services.  And you can donate my royalties to six education non-profits if you or your school order the book before the end of September.
I will reaching out to everyone in my education social media world to help spread the word about the book launch.  The biggest takeaway from Moving the Rock is simple: we CAN, in fact, dramatically transform our schools without permission from the forces that have kept us stuck for so long if WE just do it. And for that, our schools and our children need your help to share how schools successfully transform and how each of us–teachers, administrators, parents, students, and more–have a role we can play.
Thanks for following; thanks for sharing my new site and my book launch incentives with your own professional and social media universe, and have a great summer!